Commercial- Window Cleaning
Have you thought about replacing your Window Cleaner Lately?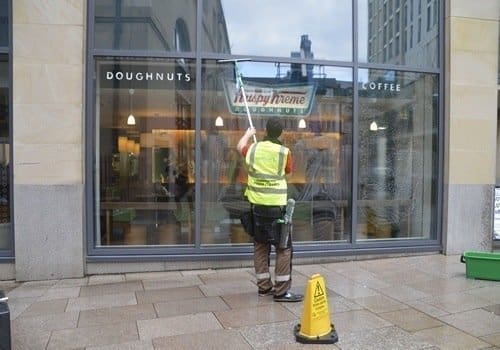 Do you have the staff and health and safety gear essential to safely and professionally clean them?
Professional Window Cleaning Services Christchurch has the experience and trained staff, and gear, can get the task performed in a lot less time. The outcome is sparkling windows your shoppers will discover,
without having the reduction of your beneficial work time. Busy taking care of shoppers, and not cleaning the windows. Never be fooled that folks strolling by your shop on Colombo Street or Riccarton Mall or such like, don't notice how good and clean your windows can be. They notice them, and they'll discover your display window at the same time, even if you're on a little-known back street.
Rest assured, the look of one's shop tells customers 1 point about you along with your company.There are some responsibilities that are just too tedious and not worthy of your precious time.
An example of this is the window cleaning. This is why we here at super clean want to take this nuisance task from you to so you can spend your time doing more important things
Skilled professional window cleaners make the chore of cleaning office buildings and shop windows and with better final results than attempting to get it done yourself.
Doing work yourself can be very challenging when you have to clean windows and deal with your customers yourself
but with the help of a Professional window cleaner that will help to take the stress away for you and your employees.
Whether you only possess a handful of small windows within the front of one's shop or office, or many huge windows all about the building,
Professional Super Clean Christchurch can care for and maintaining them, clean and clear all year round, fortnightly or weekly maintenance.
They will clean all safely accessible windows, mirrors, in and addition to any other glass surfaces within and out of your business, supplying a thorough cleaning job with which will be positive and you will be happy and satisfied.
With crystal clear windows, will possess a much better impression within your shop
. Your displays is going to be sharper, the view inside extra inviting to patrons and office guests. Invest in getting reliable experts to clean
your windows, and cost-effective choice for your company. Your windows will sparkle like new.
The outcome is sparkling windows that your shoppers will notice and want to come in. Your customers will enjoy your window display. GET A FREE QUOTE NOW!!
So if you want a hand with your cleaning fill out our form!
Ring us…
Direct for the faster's bookings
We can clean your windows to make them sparkle and is one of our most popular services.
We do a domestic cleaning. One off cleans.
We do ovens by themselves.
We can do some declaring if requested.
We do Rental cleans.
To get your bond back, we can help with your End of tenancy cleans.
We can do Office cleans to help make your business sparkle.
We also helped Builders with the E.Q.C cleans.
For your peace of mind, I am police checked.
Please feel free to ask any questions and for a no-obligation quote.